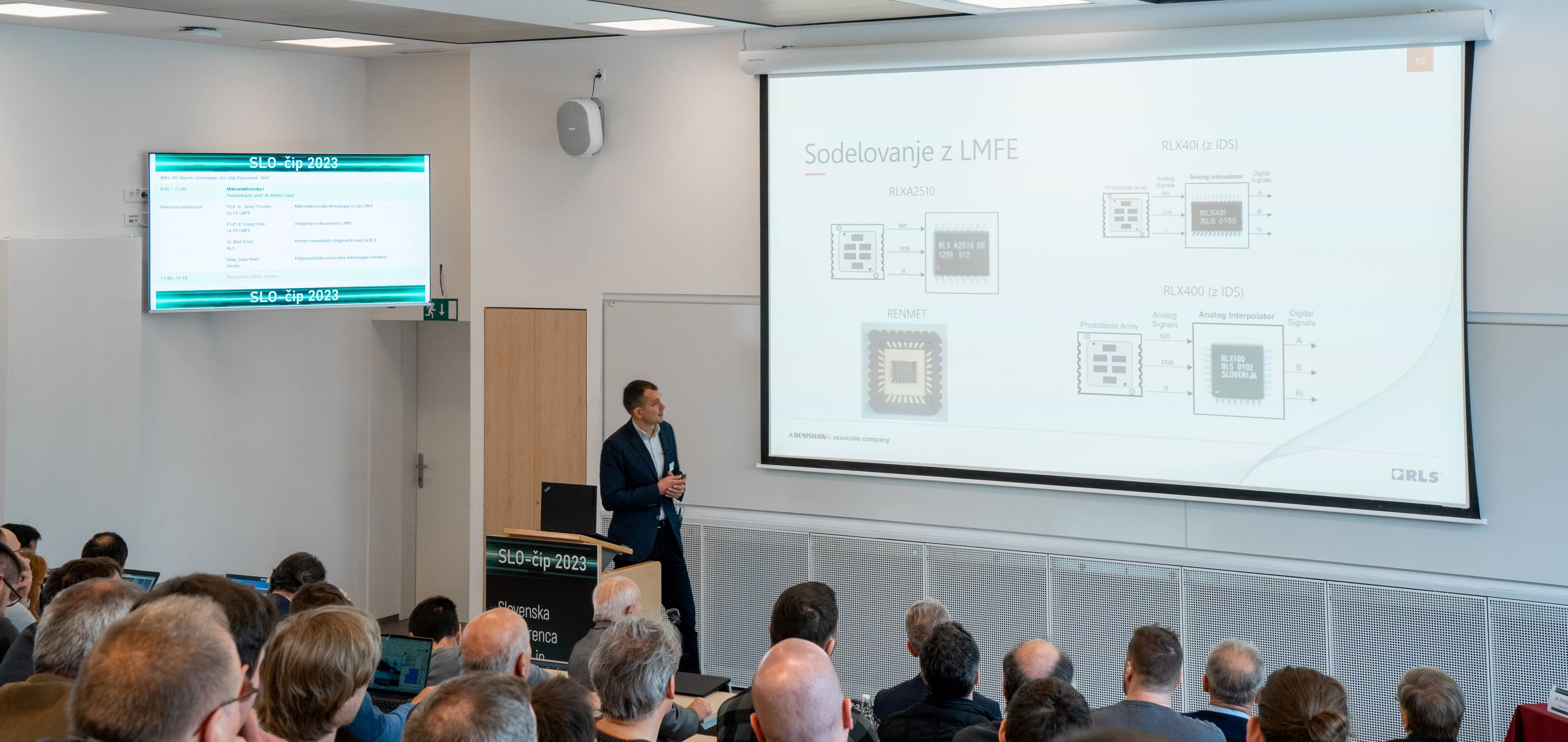 The first Slovenian Conference on ASICs and Semiconductors (SLO-chip 2023) was held on January 24, 2023 at the Faculty of Electrical Engineering, University of Ljubljana. RLS was the golden sponsor of the event and Blaž Šmid, Director of Research and Development at RLS, was one of the keynote speakers.
According to the European Chip Act, ASICs are strategic assets for key industrial value chains. The conference opened a discussion on the recent global semiconductor shortage, due in part to emerging markets in the industry such as automated vehicles, IoT, space and defence, as well as the demands of digitalization and the green transition.
As the chairman of the conference and head of the Department of Electrical Engineering at the Faculty of Electrical Engineering, Marko Topič, pointed out, Slovenia is one of the technology countries and is strategically cooperating in the field of ASICs and semiconductors.
RLS has invested heavily in ASIC research and development in the past, and much of the company's success and rapid growth is based on strong and mutually beneficial partnerships with companies and educational institutions such as the Faculty of Electrical Engineering, University of Ljubljana. RLS collaborate and build relationships with other fast-growing high-tech companies to share knowledge, spread best practises and develop new products.
Šmid added, "The most important component of the RLS magnetic sensors are ASIC integrated circuits, which we have been using for more than 25 years thanks to cooperation with the Faculty of Electrical Engineering, the company IDS d. o. o. and Renishaw d. o. o. We use 11 such ASICs, which we test in our own clean rooms and install on printed circuits. One of these circuits enabled the implementation of the patented single-track absolute encoder AksIM, which is used in collaborative robots."
The conference provided insights into the achievements of ASIC research and development, discussed current challenges, and enabled the exchange of new experiences and technologies. With events like SLO-chip 2023, a new path to the future is opening up.