AksIM technology
Overview:
AksIM technology is patented and features an ASIC for multiple encoder sizes. It was developed as a complete solution, i.e. the chip is specialized for this application and was developed together with firmware (FW), other electronic components and magnetization technology. The magnetization of the AksIM technology uses the patented single track magnetization principle with combined incremental and absolute code (pseudo-random code).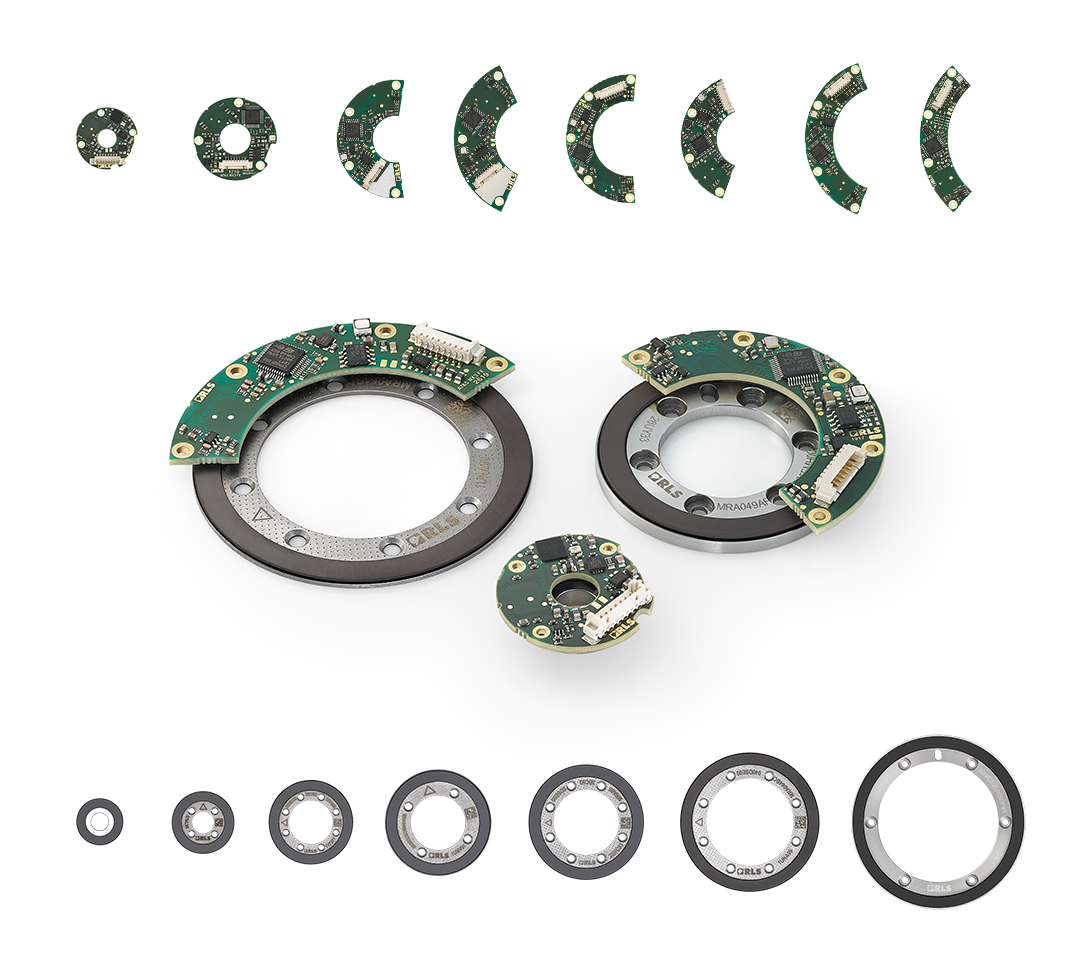 AksIM-2™ Off-Axis Rotary Absolute Magnetic Encoder Module
Basic Specification:
Available output signals: BiSS C, UART, SSI, PWM, SPI
Resolution: from 16 bit to 20 bit
Power supply: typ. 5 V
Size: between 22 mm and 80 mm
Main Characteristics:
True absolute system
Customized magnetic sensor ASIC
Self-calibration after installation to eliminate eccentricity-related errors
No hysteresis
High repeatability
Resolutions up to 20 bit
Multiturn counter option
High-speed operation
Low profile, non-contact
Built-in self-monitoring function
Integrated status LED
Plug and Play (no calibration required)
Resolutions up to 20 bits (one million counts per revolution)
Why AksIM-2?
One of the key advantages of AksIM technology is that no calibration is required after installation. AksIM offers optional self-calibration, which is integrated in the encoder and can be triggered via the controller or PC. The self-calibration process takes a maximum of 10 seconds, requiring neither constant rotation speed nor 360° rotation, but at least 180° rotation, and improves the accuracy of the system by up to 5 times. If there is a mechanical change in the assembly within the installation tolerances and the position between the readhead and the magnetic ring of the encoder changes, the encoders with AksIM technology work without problems and give an accurate absolute position. For this reason, encoders with AksIM technology are very robust.

| | AksIM | AksIM-2 (second generation) |
| --- | --- | --- |
| Arc length | Short | Slightly longer (+line driver, connector) |
| Connector | FFC 6-pin (1.9 mm height) | FCI (3.4 mm height) |
| Connector orientation | Tangential | Radial & tangential |
| Signal termination | Single-ended | RS422 line driver |
| Power supply | 4 V to 6 V | 4.5 V to 5.5 V |
| Temperature range | -30 °C to +85 °C | -40 °C to +105 °C |
| External magnetic field | ±3 mT | ±20 mT |
| Update rate | 200 μs | 55 μs |
| Bandwidth | 2.5 kHz | 9 kHz |
| Shaft turn counter | Reset to zero at power off | Remembers shaft turns and compensates for +/-90° rotation during power-off |
| Mounting surface | Grounded holes | Bigger, electrically isolated surface |
| Additional functions | None | Zero preset, self-calibration, bidirectional BiSS,etc. |
Comparison table between AksIM and AksIM-2
| | MCD01 | MBD01 |
| --- | --- | --- |
| Reading Type | Axial reading | Axial reading |
| Resolution | 20 bit and 21 bit | From 17 bit to 20 bit and 16 bit multiturn counter option |
| Maximum Speed | MRA115: 3,150 RPM, MRA150: 2,400 RPM | 10,000 RPM |
| System Accuracy | Up to ±0.004° / ±15 arcsec after self-calibration, Up to ±0.015° / ±54 arcsec without self-calibration | ±0.004° to ±0.08° / 14 to 288 arcsec before installation, ±0.004° to ±0.014° / 14 to 50 arcsec after self-calibration |
| Supply Voltage (VDD) | 4.5 V to 5.5 V at the connector | 4.5 V to 5.5 V at the connector |
| Current Consumption | Typ. 125 mA, max. 160 mA (without load on the outputs) | Typ. 130 mA, max. 150 mA (without load on the outputs) |
| Operating and Storage Temperature | –40 °C to +105 °C | –40 °C to +105 °C (standard), Readhead MB022: –40 °C to +85 °C |
| Available Ring Sizes (Inner Diameter) | 90 mm, 125 mm | 8 mm, 10 mm, 12.7 mm, 20 mm, 25 mm, 30 mm, 34 mm, 40 mm, 55 mm, 64 mm, 68 mm |
| Material Type | MRA115: EN 1.4016 / AISI430 with glued CPE rubber filled with ferrite particles, MRA150: EN 1.4057 / AISI431 with glued CPE rubber filled with ferrite particles | 2 mm thick rings EN 1.4016 / AISI430 with glued CPE rubber filled with ferrite particles (for material S), EN 1.4016 / AISI430 with glued plastoferrite (for material P), 3.9 mm and 4.9 mm thick rings EN 1.4005 / AISI416 or EN 1.4104 / AISI430F with glued CPE rubber filled with ferrite particles |